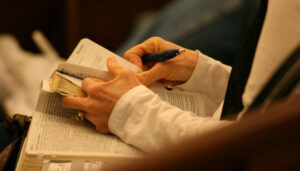 Women's Bible Study
Yes, LORD, walking in the way of your laws,
we wait for you;
your name and renown
are the desire of our hearts.
Our Women's Bible Study group at First Baptist Church began in the summer of 1998 with six ladies. Since that first meeting, we have offered 160 different Bible studies. We have also read 64 books over the last eighteen years in our summer reading club. During the last twenty-four years, more than 300 women have participated in at least one of our studies or reading clubs. We hope that you will plan to join us this year!
Hybrid Format (In-person and ZOOM)
August 22 – November 28
No meeting, September 5 & October 31
Experiencing the Promise of the Book of
Revelation
Nancy Guthrie
Over 12 chapters, Blessed covers the full text of the book of Revelation, exploring its call to patient endurance as God's sovereign plans for judgment and salvation are worked out in the world. This book shows that Revelation is less about when Jesus will return and more about who we are to be, what we are to do, and what we can expect to endure as we wait for Jesus to return to establish his kingdom in the new creation.
With a friendly and engaging tone, Blessed takes the fear, intimidation, and confusion away from studying Revelation, providing a solid and accessible resource that individuals and small groups can use to study this important yet often avoided book.