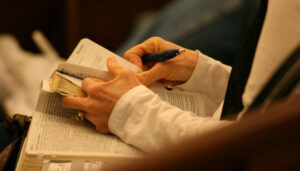 Women's Bible Study
Yes, LORD, walking in the way of your laws,
we wait for you;
your name and renown
are the desire of our hearts.
Our Women's Bible Study group at First Baptist Church began in the summer of 1998 with six ladies. Since that first meeting, we have offered 164 different Bible studies. We have also read 67 books over the last nineteen years in our summer reading club. During the last twenty-five years, more than 300 women have participated in at least one of our studies or reading clubs. We hope that you will plan to join us this year!
Mondays, 6:30 PM
January 8, 15, 22, 29
ZOOM Only
FREE study guide available for download on 12/15.

A Study on Prayer from Kelly Minter, Jackie Hill Perry, Jen Wilkin,
Jennifer Rothschild, Jada Edwards, and Kristi McLelland
Mondays, 6:30 PM
February 5 – March 18
Hybrid Format: Meeting in the Conference Room @ FBC and on ZOOM
Cost: $25
Workbook with Video Access
Do you have trouble thinking of words to say to God when you pray? Are you afraid some emotions are too intense to express to God? Do you reach the end of a day only to realize you haven't prayed at all? You're not alone. Prayer is the way we relate to God, but sometimes it's a struggle. Throughout God's Word, we encounter many voices who teach us how to pray.
In this 7-session study, join with six beloved Bible teachers who will help you study prayers in the Bible that can inspire your own. You'll learn that God welcomes your praise and lament, your thanksgiving and intercession. You'll see examples of how to pray when you're alone and when you're gathered with others. Above all, you'll notice there's no one right way to pray. As you draw near to God through prayer, you'll find your faith strengthened and your heart united to Christ.
Local Participants: Sign up at the Welcome Center or by calling the church office [270-422-3355].
We will make a group order for the books (on January 23), and you may pay for them when you pick them up at the first meeting on February 5.
Remote/Distance Participants: Y

ou may purchase your book

here

and send an email to

Roxanne Nanney

to be added to the contact list for ZOOM access.