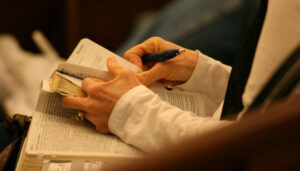 Women's Bible Study
Yes, LORD, walking in the way of your laws,
we wait for you;
your name and renown
are the desire of our hearts.
Our Women's Bible Study group at First Baptist Church began in the summer of 1998 with six ladies. Since that first meeting, we have offered 160 different Bible studies. We have also read 64 books over the last eighteen years in our summer reading club. During the last twenty-four years, more than 300 women have participated in at least one of our studies or reading clubs. We hope that you will plan to join us this year!
Bonus ZOOM Sesssion
Monday,
January 16, 6:30 p.m.
Bonus – ZOOM Sessions
How to study the Bible on Your Own
Hybrid Format (In-person and ZOOM)
January 23 – March27
A Study of 1, 2 and 3 John
Jen Wilkin
How can we hold onto assurance of our faith? How can we discern the truth from a lie? How can we know God loves us?
In this 10-session study of 1, 2, and 3 John, Jen Wilkin will help you discover how 2,000 years later, the apostle John's words call to Christians in similar challenges to recall a great salvation and to abide in the truth. He reminds an early church facing division, deception, and doubt to hold fast to what they know and to live like they believe it. And he reminds us as well.
Benefits:
Study 1, 2, and 3 John verse by verse.

Find encouragement in the truth that God loves you.

Learn to discern the truth of God from a lie.

Be challenged to remain steadfast in your faith.

Cost: $25
Bible Study Book with Video Access
Local Participants: Sign up at the Welcome Center or by calling the church office [270-422-3355].
We will make a group order for the books, and you may pay for them at our first meeting.
Remote/Distance Participants: You may purchase your book here and send an email to Roxanne Nanney to be added to the contact list for ZOOM access.