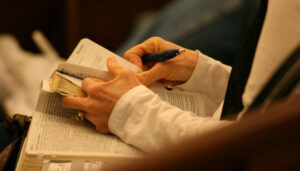 Women's Bible Study
Yes, LORD, walking in the way of your laws,
we wait for you;
your name and renown
are the desire of our hearts.
Our Women's Bible Study group at First Baptist Church began in the summer of 1998 with six ladies. Since that first meeting, we have offered 164 different Bible studies. We have also read 67 books over the last nineteen years in our summer reading club. During the last twenty-five years, more than 300 women have participated in at least one of our studies or reading clubs. We hope that you will plan to join us this year!

The Gift of the Gospel in Romans
September 18 – November 20
Hybrid Format: Meeting in the Conference Room @ FBC and on ZOOM
Cost: $22
Workbook with Video Access
The gospel doesn't just change your eternal future; it changes your present reality.
In this 9-session study on the book of Romans, Courtney Doctor will walk you through Paul's powerful letter to see the glorious grace and transforming work of the gospel. You'll be overwhelmed with the good news of God's merciful rescue as you better understand the depth of your need. This life-changing message provides not only hope for eternity, but purpose, joy, and peace for today. And as the good news of the gospel of grace unfolds through Romans, it will compel you to proclaim God's glorious salvation to all.
No meeting on October 2

Local Participants: Sign up at the Welcome Center or by calling the church office [270-422-3355].
We will make a group order for the books (on September 11), and you may pay for them when you pick them up at the first meeting on September 18.
Remote/Distance Participants: Y

ou may purchase your book

here

and send an email to

Roxanne Nanney

to be added to the contact list for ZOOM access.