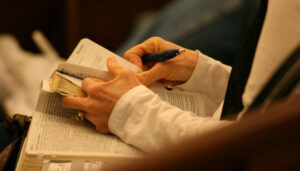 Women's Bible Study
Yes, LORD, walking in the way of your laws,
we wait for you;
your name and renown
are the desire of our hearts.
Our Women's Bible Study group at First Baptist Church began in the summer of 1998 with six ladies. Since that first meeting, we have offered 149 Bible studies. We have also read 64 books over the last eighteen years in our summer reading club. During the last twenty-two years, more than 300 women have participated in at least one of our studies or reading clubs. We hope that you will plan to join us this year!
Women's Bible Study Leadership Team
D
ebbie Allen, Sherry Cart, Sarah Kittinger, Roxanne Nanney, Bonita Reed, Shirl Skaggs
Hybrid – in-person and ZOOM
June 7, 14, 28, July 12, 26, August 2, 16
The Everlasting Truth of Our Great Savior
A 6-week Bible Study of Romans 8 by Trillia J. Newbell
Sure we know in our head that God is for us, that there's great hope in his relationship with us and salvation for us, but sometimes these truths can be hard to believe in the midst of exhaustion, busyness, and a world of spiritual and physical opposition.
If God Is For Us
is a devotional Bible Study on Romans 8 designed to cement in your soul the great truths of our salvation and an understanding for how the Holy Spirit guides our new life in the Spirit, all found in this beloved chapter of Scripture.
If you've experienced the comfort of Romans 8 before, but want to plant it more deeply in your person this is the Bible Study for you.
Join us as we read 3 great books by 3 great authors together this summer. Each month, we'll read a book and then come "together" virtually on a ZOOM meeting to discuss the book. We ask that you come with a "yippee" [something that encourages you] and an "oh me!" [something that challenges/convicts you] from each chapter/section of the book.
Delighting In and Doing What God Commands
Discussion: Tuesday, June 29, 7:00 p.m.
Understanding the Bible as One Seamless Story
Discussion: Saturday, July 31, 10:00 a.m.
Reflections on Living the Christian Life
Discussion: Thursday, August 26, 7:00 p.m.