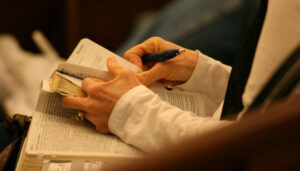 Women's Bible Study
Yes, LORD, walking in the way of your laws,
we wait for you;
your name and renown
are the desire of our hearts.
Our Women's Bible Study group at First Baptist Church began in the summer of 1998 with six ladies. Since that first meeting, we have offered 149 Bible studies. We have also read 64 books over the last eighteen years in our summer reading club. During the last twenty-two years, more than 300 women have participated in at least one of our studies or reading clubs. We hope that you will plan to join us this year!
Women's Bible Study Leadership Team
D
ebbie Allen, Sherry Cart, Sarah Kittinger, Roxanne Nanney, Bonita Reed, Shirl Skaggs
Hybrid Format (In-person and ZOOM)
September 13 – November 22
A Study of Hebrews 11
Ruth M. Bathauer (Joy of Living)
Based on the great "faith" chapter, Hebrews 11, each Hall of Faith lesson focuses on the faith of one or more Old Testament believers. By delving into their stories in the Old Testament and studying related New Testament passages,
you will learn about what faith is, about the object of our faith, and about the authority and power available to the believer through faith in God.
Local participants: We'll be placing a group order, so sign up in the church office or by sending an email to Roxanne Nanney.
Cost: $15 spiral bound OR loose leaf, $20 Large-print spiral bound
Non-local participants: You may order your book directly from Joy of Living.

Also send an email to Roxanne Nanney
so that you will receive ZOOM information.