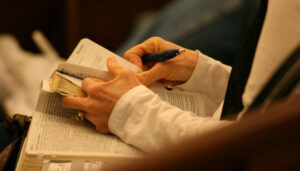 Women's Bible Study
Yes, LORD, walking in the way of your laws,
we wait for you;
your name and renown
are the desire of our hearts.
Our Women's Bible Study group at First Baptist Church began in the summer of 1998 with six ladies. Since that first meeting, we have offered 160 different Bible studies. We have also read 64 books over the last eighteen years in our summer reading club. During the last twenty-four years, more than 300 women have participated in at least one of our studies or reading clubs. We hope that you will plan to join us this year!
Hybrid Format (In-person and ZOOM)
April 10 – May 22
Striving Less and Trusting God More
Melissa Spoelstra
Following God isn't about striving; it's about trusting.
As you study the chapters Isaiah wrote—from his challenging words to the nation of Israel to his prophecies of the Messiah to come—learn to rest in God's promises and grow in trust.
In this 7-session study, Isaiah's words will reveal that you can trust God more than your own human effort or the counterfeits the world suggests. You won't be striving harder, but instead trusting more deeply the Faithful One who is so worthy of our utter dependence. In Him you'll find the comfort and peace you need to sustain you.
Cost: $22


Bible Study Book with Video Access

Local Participants: Sign up at the Welcome Center or by calling the church office [270-422-3355].
We will make a group order for the books, and you may pay for them at our first meeting.
Remote/Distance Participants: You may purchase your book here and send an email to Roxanne Nanney to be added to the contact list for ZOOM access.