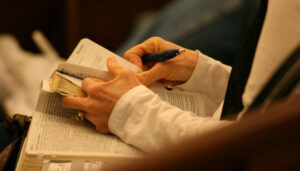 Women's Bible Study
Yes, LORD, walking in the way of your laws,
we wait for you;
your name and renown
are the desire of our hearts.
Our Women's Bible Study group at First Baptist Church began in the summer of 1998 with six ladies. Since that first meeting, we have offered 160 different Bible studies. We have also read 64 books over the last eighteen years in our summer reading club. During the last twenty-four years, more than 300 women have participated in at least one of our studies or reading clubs. We hope that you will plan to join us this year!
Hybrid Format (In-person and ZOOM)
June 13, 20, 27, July 11, 25, August 1, 8, 15
A Bible Study of Salvation Stories in the Old Testament
Courtney Doctor and Melissa Kruger
This seven-week Bible study, with an emphasis on biblical theology, traces the promised seed of the woman from Genesis 3:15 through seven Old Testament stories. Each chapter—Noah and the ark, Abraham and Isaac, Moses with the manna and water from the rock, the serpent on the pole, Rahab and the spies, David and Goliath, and David and Mephibosheth—gives us a glimpse, a foreshadowing, of the greater salvation Jesus wins. In each encounter, we'll see how God faithfully fulfilled his promise as he prepared us for the ultimate offspring who brought our eternal salvation.
Each story will be accompanied by a symbol that represents an aspect of our salvation. These symbols are intended to be visual reminders of spiritual truths. David once wrote: "Restore to me the joy of your salvation" (Ps. 51:12). Our hope is that you will remember the joy of your salvation—and praise the One who accomplished it—as you consider the battle he won on your behalf.
Order on your own or local participants may order through First Baptist Church.
Locals: we have a limited number of copies for $5, once those are gone, the cost is $12
Summer Reading Club
In our summer reading club, participants choose one or more books to read and
then we meet together one time for each book to discuss insights from the books.
You may purchase the books on your own or (if you are local) you may sign up
by the deadline to order with the FBC order.
July
How Our Study of God Shapes Our Worship of Him
We live in a polarized time. Christians are quick to conceive of themselves either as theologically-minded or worship-minded; either thinking Christians or feeling Christians. The results are damaging: theology without worship is muted, stifled, and cold, and worship without theology is ungrounded, unrooted, and uninformed.
This is not the way it was meant to be.
Theology (our study and knowledge of God) should always lead to doxology (our worship of Him). Worship should always be rooted in theology. When we study the nature and character of God as revealed in his Word, we are invited to respond in the affectionate, obedient discipleship of worship. How can we keep our theology from being mere head knowledge? How do we give our worship roots that will last? By fixing our eyes on God Himself—the object of our study and the object of our worship.
Fix Your Eyes is an invitation to understand core doctrines of the Christian faith and apply them in our daily worship of God. It walks believers through key theological concepts and shows how each can be lived out in daily life.
FBC Ordering Cost: $16
Discussion: Saturday, July 30, 10:00 AM
Roxanne Nanney's House/ZOOM
August
Feeding Your Soul in a Post-Truth World
We're facing an information overload.
With the quick tap of a finger we can access an endless stream of addictive information―sports scores, breaking news, political opinions, streaming TV, the latest Instagram posts, and much more. Accessing information has never been easier―but acquiring wisdom is increasingly difficult.
In an effort to help us consume a more balanced, healthy diet of information, Brett McCracken has created the "Wisdom Pyramid." Inspired by the food pyramid model, the Wisdom Pyramid challenges us to increase our intake of enduring, trustworthy sources (like the Bible) while moderating our consumption of less reliable sources (like the Internet and social media). At a time when so much of our daily media diet is toxic and making us spiritually sick, The Wisdom Pyramid suggests that we become healthy and wise when we reorient our lives around God―the foundation of truth and the eternal source of wisdom.
FBC Ordering Cost: $15
Discussion: Tuesday, August 30, 7:00 PM
Conference Room @ FBC/ZOOM