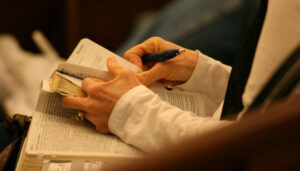 Women's Bible Study
Yes, LORD, walking in the way of your laws,
we wait for you;
your name and renown
are the desire of our hearts.
Our Women's Bible Study group at First Baptist Church began in the summer of 1998 with six ladies. Since that first meeting, we have offered 160 different Bible studies. We have also read 64 books over the last eighteen years in our summer reading club. During the last twenty-four years, more than 300 women have participated in at least one of our studies or reading clubs. We hope that you will plan to join us this year!
Hybrid Format (In-person and ZOOM)
Nancy Collins (Joy of Living); Commentary by Ray Stedman
Treasures from the Parables covers selected parables of Jesus that deal with subjects such as lost things, what to do while waiting for the Lord's return, God's invitation, and the temporary vs. the eternal.
The parables are very exciting and challenging portions of Scripture. Like a mystery novel, there is always something veiled, something hidden within them; thus they are enticing and challenging. There are clues given in each of the parables that lead us to its meaning. These clues encourage us to investigate and discover the hidden truths, which will become real treasures that enrich our lives and deepen our walk with the Lord when we apply those truths to our lives.
Summer Reading Club
In our summer reading club, participants choose one or more books to read and
then we meet together one time for each book to discuss insights from the books.
You may purchase the books on your own or (if you are local) you may sign up
by the deadline to order with the FBC order.
May
How God's Holiness Helps Us Trust Him
If God is holy, then He can't sin. If God can't sin, then He can't sin against you. If He can't sin against you, shouldn't that make Him the most trustworthy being there is?
Bestselling author Jackie Hill Perry, in her much anticipated follow-up to Gay Girl, Good God, helps us find the reason we don't trust God— we misunderstand His holiness.
In Holier Than Thou, Jackie walks us through Scripture, shaking the dust off of "holy" as we've come to know it and revealing it for what it really is: good news. In these pages, we will see that God is not like us. He is different. He is holy. And that's exactly what makes Him trustworthy. As it turns out, God being "holier than thou" is actually the best news in the world, and it's the key to trusting Him.
FBC Ordering Cost: $12
Discussion: Monday, June 6, 7:00 PM
Conference Room @ FBC/ZOOM
June
Replacing the Gospel of Self-Improvement
with the Gospel of Life-Transforming Grace
In this hustling, image-forward age of opportunity, we feel more anxious than ever. Despite all the affirming memes and self-reflections that dominate social media feeds, approval and worth often seem assigned to what we do rather than who we are. And we end up constantly feeling like we're behind, lacking, and failing—at home, at work, with friends, with God.
Ruth Chou Simons knows something about feeling measured by achievement, performance, and the approval of others. As a Taiwanese immigrant growing up between two cultures, Ruth was always on a mission to prove her worth, until she came to truly understand the one thing that changes everything: the extravagant, undeserved gift of grace from a merciful God. In When Strivings Cease, Ruth guides you on a journey to find freedom from the never-ending quest for self-improvement. She shows you how to
confront the ways you look to superficial means of acceptance and belonging;

find relief in realizing self-help isn't the answer because you can't be so amazing that

you won't need grace;

stop seeing God as someone to perform for and start finding delight in responding
to his welcome; and

let go of trying to rely on your own strength, your own abilities, and your own savvy by truly understanding the freedom Jesus purchased for you.
With personal stories, biblical insights, practical applications, and touches of original artwork by Ruth, this transformational book helps you see the beautiful truth that God's favor is the only currency you need—because in Christ you are enough.
FBC Ordering Cost: $19
Discussion: Thursday, June 30, 7:00 PM
Roxanne Nanney's House/ZOOM
July
How Our Study of God Shapes Our Worship of Him
We live in a polarized time. Christians are quick to conceive of themselves either as theologically-minded or worship-minded; either thinking Christians or feeling Christians. The results are damaging: theology without worship is muted, stifled, and cold, and worship without theology is ungrounded, unrooted, and uninformed.
This is not the way it was meant to be.
Theology (our study and knowledge of God) should always lead to doxology (our worship of Him). Worship should always be rooted in theology. When we study the nature and character of God as revealed in his Word, we are invited to respond in the affectionate, obedient discipleship of worship. How can we keep our theology from being mere head knowledge? How do we give our worship roots that will last? By fixing our eyes on God Himself—the object of our study and the object of our worship.
Fix Your Eyes is an invitation to understand core doctrines of the Christian faith and apply them in our daily worship of God. It walks believers through key theological concepts and shows how each can be lived out in daily life.
FBC Ordering Cost: $16
Discussion: Saturday, July 30, 10:00 AM
Roxanne Nanney's House/ZOOM
August
Feeding Your Soul in a Post-Truth World
We're facing an information overload.
With the quick tap of a finger we can access an endless stream of addictive information―sports scores, breaking news, political opinions, streaming TV, the latest Instagram posts, and much more. Accessing information has never been easier―but acquiring wisdom is increasingly difficult.
In an effort to help us consume a more balanced, healthy diet of information, Brett McCracken has created the "Wisdom Pyramid." Inspired by the food pyramid model, the Wisdom Pyramid challenges us to increase our intake of enduring, trustworthy sources (like the Bible) while moderating our consumption of less reliable sources (like the Internet and social media). At a time when so much of our daily media diet is toxic and making us spiritually sick, The Wisdom Pyramid suggests that we become healthy and wise when we reorient our lives around God―the foundation of truth and the eternal source of wisdom.
FBC Ordering Cost: $15
Discussion: Tuesday, August 30, 7:00 PM
Conference Room @ FBC/ZOOM
Hybrid Format (In-person and ZOOM)
June 13, 20, 27, July 11, 25, August 1, 8, 15
A Bible Study of Salvation Stories in the Old Testament
Courtney Doctor and Melissa Kruger
This seven-week Bible study, with an emphasis on biblical theology, traces the promised seed of the woman from Genesis 3:15 through seven Old Testament stories. Each chapter—Noah and the ark, Abraham and Isaac, Moses with the manna and water from the rock, the serpent on the pole, Rahab and the spies, David and Goliath, and David and Mephibosheth—gives us a glimpse, a foreshadowing, of the greater salvation Jesus wins. In each encounter, we'll see how God faithfully fulfilled his promise as he prepared us for the ultimate offspring who brought our eternal salvation.
Each story will be accompanied by a symbol that represents an aspect of our salvation. These symbols are intended to be visual reminders of spiritual truths. David once wrote: "Restore to me the joy of your salvation" (Ps. 51:12). Our hope is that you will remember the joy of your salvation—and praise the One who accomplished it—as you consider the battle he won on your behalf.
Order on your own or local participants may order through First Baptist Church.
Locals: we have a limited number of copies for $5, once those are gone, the cost is $12